Aircraft Ballistic Protection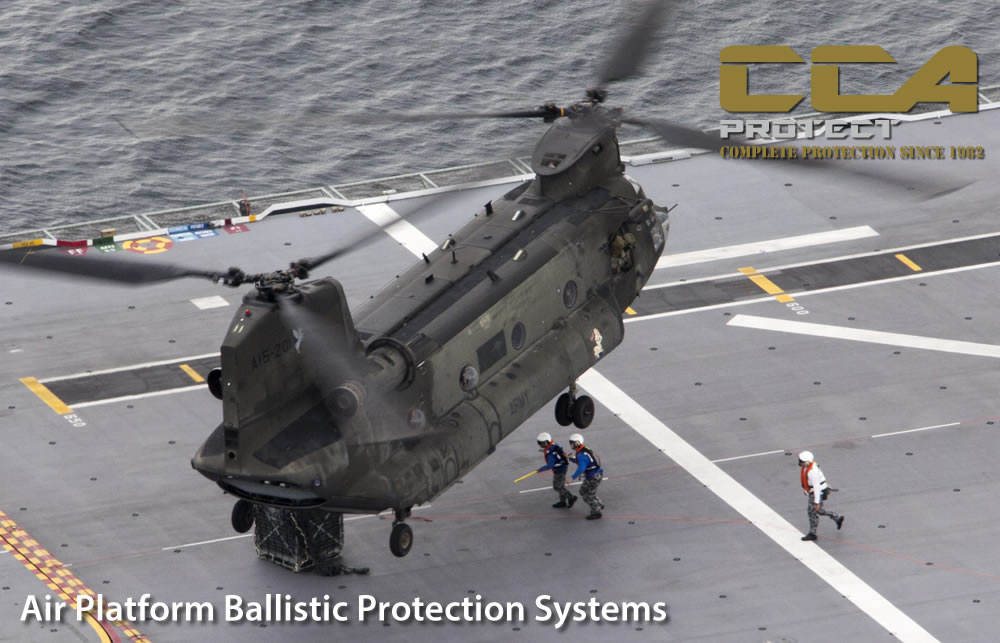 CCA is a family owned company located on the Gold Coast, Australia who has actively supported the ADF for the past 35 years in ensuring the safety and protection of Australia's serving men and women. CCA is a recognised global leader in the manufacture of ballistic protection for personal and air and vehicle platforms. Their pursuit to utilise only the most advanced composites available to create world-leading ballistic protection products, in conjunction with cutting edge technologies and production processes, cement CCA as a best-practice business in the field.
Since their inception, CCA have built an enviable stable of clients, working with the likes of the Australian Defence Force, New Zealand Defence Force, QLD Police, WA Police, PNG Defence Force, UAE Defence Force, Army Aviation Centre, Singapore Police Force, Australian Federal Police, and Customs and Border Protection.
Chosen Manufacturer for ADF
CCA is the chosen supplier of ballistic protection for the CH-47D , CH-47F Chinooks and UH60 Blackhawk helicopters for the Australian Defence Force. Its proven experience in air platform ballistic protection gives it a unique advantage over its competitors. The company's proven ability to supply provides its clients with a high level of certainty which in turn minimises risk and lowers duration of rollout.
CCA's manufacturing facilities are designed to cater for rapid production of air-platform ballistic protection systems. Due to the specialised aircraft components required to create the ballistic panels CCA carries a surplus of components to reduce lead times for manufacturing. CCA's skilled workforce have specialised experience in the production of the air platform ballistic panels and are ready to commence immediately with very little lead time or knowledge transfer .
Uncompromised Quality
CCA understands that on the battlefield there is no compromise on quality. The materials used in CCA's products are premium grade products sourced from the industry's most reputable suppliers. CCA's products are battle tested and proven. Each ballistic protection panel produced by CCA comes with a Configuration Audit Report and a Certificate of Conformance and records are kept in both hard copy and digital form to provide complete traceability.
Key Features
Light weight
Low profile
Tested to NIJ Standard 0108.01
Multi-strike ballistic resistance
High durability
High structural strength
Resistant to environmental degradation effects
Complies with FAR 25.853 (Flame resistant)